Alma's Stripes: Finding Fashion in the Alma Thomas papers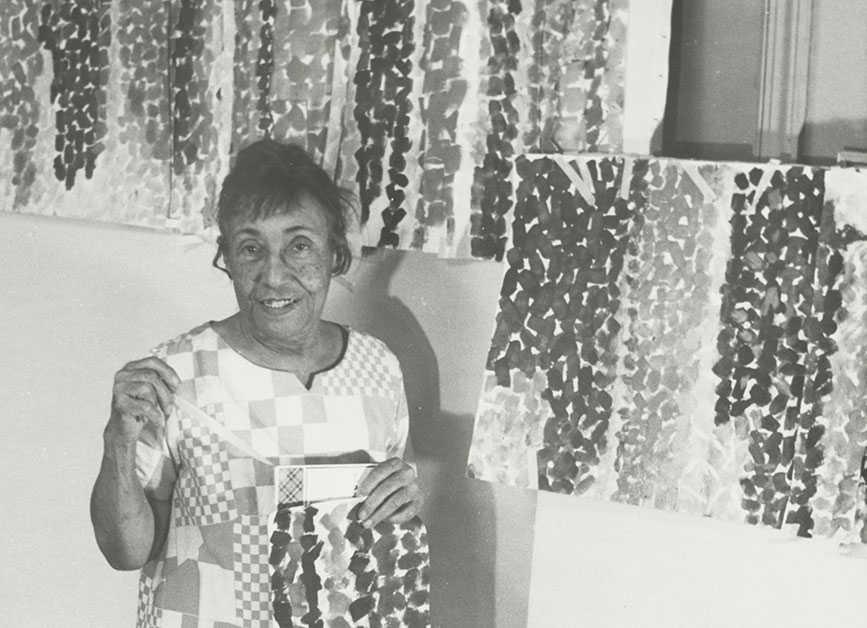 Kelly Quinn, Terra Foundation Project Manager for Online Scholarly and Educational Initiatives, looks at painter Alma Thomas' taste for abstraction in her work and dress.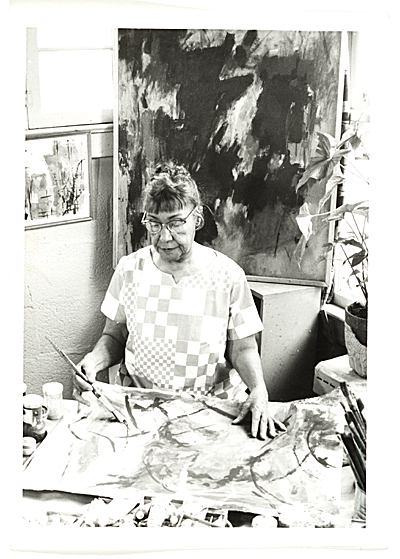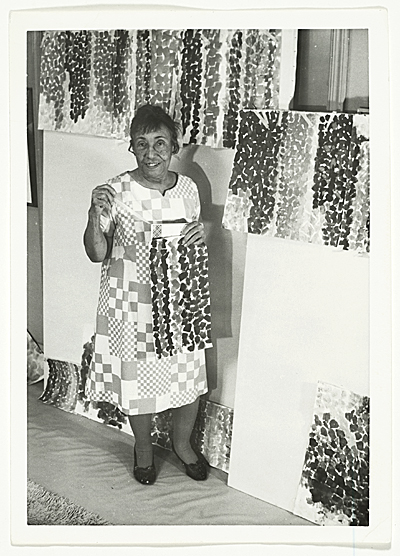 Upon learning that the late Alma Thomas's birthday was approaching, I began to poke around on our website and in our collections to learn a little more about her life. I have been drawn to the details of her biography largely because I am a social historian interested in African American life and thought. And, as an art historian interested in abstraction and Washington's Color School, I have been drawn to her paintings. While I knew her life story and her artwork, it was when I turned to the Archives of American Art's Image Gallery that I first saw her as a person. Looking at pictures of Alma Thomas got me thinking about the aesthetic choices artists make, and I discovered a new fascination with her sartorial choices.
The Alma Thomas papers capture my fancy because of my long-standing interest in this African American female teacher and painter who lived and worked for much of her life in Washington, D.C. until her death in 1978. When she was a teenager, Thomas's family moved north from Georgia to Washington, D.C. during the Great Migration. The District of Columbia served as a cultural, political, social, and economic capital for African American men, women, and children at the turn of the twentieth century.
An alumna of the D.C. Public Schools (and other prestigious colleges and universities), Alma Thomas served as a teacher at Shaw Junior High School between 1924 and 1960. Thomas introduced generations of children to art and art appreciation through her distinctive pedagogy which included establishing the school system's first art gallery, organizing annual exhibitions of African American artists during Negro History Week, and developing the School Arts League Project. During her tenure—both as a student and as a faculty member—the D.C. Public Schools was one of the premier primary and secondary educational institutions for African Americans in the county.
Ida Jervis's photographic portraits of Alma Thomas from 1968 allow us to peek into Thomas's studio and glimpse her practice. In a favorite of mine, Thomas stands at a table, paintbrush in hand, tracing curvilinear shapes, working with an abstract painting. Those lines echo the leaves in the potted plant that stands in the bright window to her left. This canvas of intersecting arcs and overlapping shapes is markedly different from the rigid rows of vivid color we often associate with Thomas's work. Those (perhaps) more familiar paintings appear in other shots. Indeed, Thomas posed for Jervis in front of several sheets of "Alma's Stripes" as she called them. These portraits nudged me to consider Alma Thomas's physical presence as well.
On this day in 1968, Thomas favored gridded patterns on her canvases and in her costume. Her dress is composed of a series of checkerboards and colored squares. At the opening of her solo show at the Whitney Museum in 1972—when she was seventy-seven years old—Thomas sported a different dress (or maybe a duster) with a bold geometric print featuring diamonds, squares, and zigzags. I began to wonder, "Why did she choose these particular items on these occasions?" Did she aim to associate her physical self so closely to her paintings? Was this a conscious effort to coordinate and link the artistic practices of painting and dressing? Thomas studied costume design while a student at Howard University, and her mother executed her designs for school productions. I chatted about Thomas's fashion sense with my co-worker Elizabeth Botten who mused about whether and how Thomas sought out the fabric: did she pick it out and design the pieces or did she buy them? We are left with more questions than answers but one thing is certain: I am now inspired to don a checkerboard caftan on September 22 to mark Alma Woodsey Thomas's birthday.
Happy Birthday, Ms. Thomas!
Kelly Quinn is the Terra Foundation Project Manager for Online Scholarly and Educational Initiatives at the Archives of American Art.
Comments
love the pic on this blog :)
Posted by

September 26, 2012
on
Nice educative blog for my college project on Classic Hawaii Art and Hawaiian Paintings.Thanks for sharing.
Posted by

October 20, 2012
on
A virtual repository of a substantial cross-section of the Archives' most significant collections.