The nine short reels of film that make up these charming home movies form a small but significant series within the papers of artists Stefan Hirsch and Elsa Rogo, a collection that is also rich with correspondence, artwork, writings, and many hundreds of photographs. These films, which were shot in Mexico between 1935 and 1941, are among the Archives' oldest motion picture holdings and, until now, they were completely inaccessible due to their condition and age. With funding provided by the National Film Preservation Foundation, the films are now preserved and accessible for all to view.
Motion pictures are found in about eight percent of the collections at the Archives of American Art. Although they can be tricky to access and costly to preserve, this project has proven once again how rewarding it is to take the trouble. Home movies in particular, with their ad hoc subject matter and personal nature, convey a feeling of being there that you don't get with paper records or even photographs.
These films depict mainly daily life in the large provincial town of Taxco in the state of Guerrero, where Rogo and Hirsch lived, and Tehauntepec, a large town in the Southern state of Oaxaca. They show a festival procession and dancing, busy streets and markets, and scenes of people working, living, and playing. The films are clearly the work of amateur filmmakers, but the artist's eye overcomes their technical shortcomings. At times the film quality is compromised by the shakiness of the hand-held camera, low light, or overly-quick camera movements, all common problems in amateur films, but they are always tightly composed and well-balanced. In their composition and subject-matter, they evoke the documentary photographs created by Farm Security Administration photographers, or Paul Strand or Manuel Alvarez Bravo, all contemporaries of Hirsch and Rogo. Technically, it's also worth noting that two of the films (beginning at 26:18) are in color. Color film had only just become available to consumers, and this may have been another source of inspiration for the filmmakers.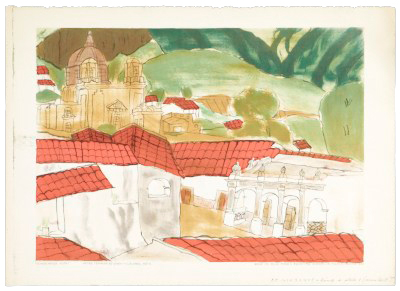 The period when these films were made, between the world wars, was a transformative period politically, socially, and aesthetically, and the films bear witness to ways in which those transformations manifested in North America. Mexico had entered a new period of relative political stability which, coupled with the onset of the Depression in the United States, helped to foster a burgeoning expatriate community in Mexico. Politicized by the wars and populist movements of the early twentieth century, artists expressed their social and political sympathies through their artwork in a variety of ways.
Rogo's teaching and writing during this period suggest that she may have been more interested in the self-expression of Mexicans than in her own depiction of them as an artist. In 1931, she founded a painting school for children in Taxco and, in 1937, published a book entitled Walls and Volcanos: The Creative Impulse of the Mexican People. In some ways, I think her orientation as a teacher encouraging creative self-expression can be seen in the films. This is not the footage of a tourist or propagandist seeking to exoticize Mexicans, to highlight their otherness. Her subjects participate in the films. Rather than being objectified, their subjectivity is what comes through, often bursting out of the frame with direct gazes at the camera, sometimes warm, sometimes curious, sometimes playful, sometimes indifferent.

While there is limited documentation of the film footage in the collection, there are hundreds of photographs, many of the same subjects. Many original negatives are found in the collection, still in their 35mm strips showing a sequence of photographs that echo the feel of a strip of motion picture film. When I look at the photographs and watch the films, I can imagine the excitement with which these artists, avid documenters of their adopted home, picked up a movie camera and recorded the light and movement and, in two of the reels, the colors around them.
The preservation of the films presented here is part of the Archives' ongoing commitment to making its significant motion picture holdings accessible to the public. We are grateful to the National Film Preservation Foundation for making this project possible.
Megan McShea is the audiovisual archivist and CLIR project archivist at the Archives of American Art.