Reference specialist Elizabeth Botten shares some of her favorite artists' signatures.
After more than a decade of working at the Archives of American Art, my hands and eyes have passed over of thousands of documents, many of them letters and correspondence. I've never taken a class in paleography, and don't really subscribe to the idea that you can know a person's full character by the way they form their Ps and Qs. However, I do think that feelings, emotions, and wit can come across with the stroke of a pen. And, as much as I appreciate the convenience and speed of email, I experience a lot of joy in working with collections where the odd squiggle and creative signature can breathe life into an otherwise mundane document.
Style and Sass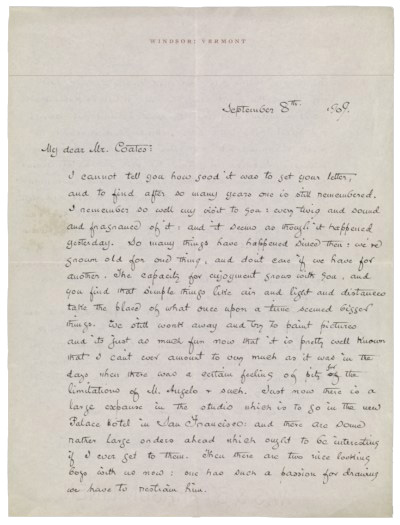 The first time I came across a letter written by the illustrator Maxfield Parrish, I was immediately struck. His handwriting is neat and beautiful, compact and stylized, and echoes the clean, neo-classical qualities of his illustrations. As a writer he is also quite witty; fans of P.G. Wodehouse, especially, will find a lot to smile about in the Maxfield Parrish selected papers and letters, (ca. 1888)-1986.
In his letter to Mr. Cotes, presumably a collector of Parrish's work, Parrish discusses the availability of a work he refers to as Circe—likely Circe's Palace of 1908—as well as his views on modern life.
I believe in getting the best out of the grains of the times: I think the Medici's would have made good use of plate glass and upright pianos and electric light, and maybe even a Morris chair, and you can get a lot of joy from a car if you make it a means to an end.
It's a letter worth reading, not only for the content, but also for his charming hand.
In March of 1926, the composer Cole Porter wrote to artist and illustrator Charles Green Shaw, addressing him as "Big Boy" (Porter's nickname for Shaw while they were students at Yale), and imploring him to write: "But write to me Big Boy. I miss you so much. And its [sic] been so long. Won't you write to me?" Where Parrish shows restraint, Porter is free with his pen. His exuberant, loopy Ms and Ws and sharp Es are almost abstract. He signs off, sweetly, as "inConsOLablE."
A Young Hand
I recently came across a box of my old school papers that spanned elementary school through college, and while the scribbles I turn out today are virtually unrecognizable—or unreadable—compared to what I found in the box, I could see the aspects of my handwriting evolving through old essays and notes. Andy Warhol wrote to photographer Russell Lynes, then the managing editor of Harper's Magazine, as a twenty-one year old with a short biography: a Pittsburgh native born in 1928, "like everybody else in a steel mill." His loopy capitol H and W remind me of a young hand, which seems to get increasingly looser within a few years as evidenced by his letterhead from the 1950s (on which a typed letter is found in his Time Capsule 21 at the Archives of the Andy Warhol Museum in Pittsburgh). His illustrations of the same period often have bits of similar handwritten text infused with a fanciful touch.
Another interesting discovery is from the Gertrude Vanderbilt Whitney papers. Vanderbilt Whitney's niece, the artist and fashion designer Gloria Vanderbilt, was her ward after a contentious custody battle, and Gertrude kept her report card from 1933 when she would have been eight or nine years old. I do not know whether young Gloria or her teacher filled out her name on the front of her report card, but when I came across it I saw seeds of a mature signature, with that tell-tale extended V, that reminded me of the backside of a certain pair of jeans I had many years ago.

A Little Whimsy Never Hurt Anybody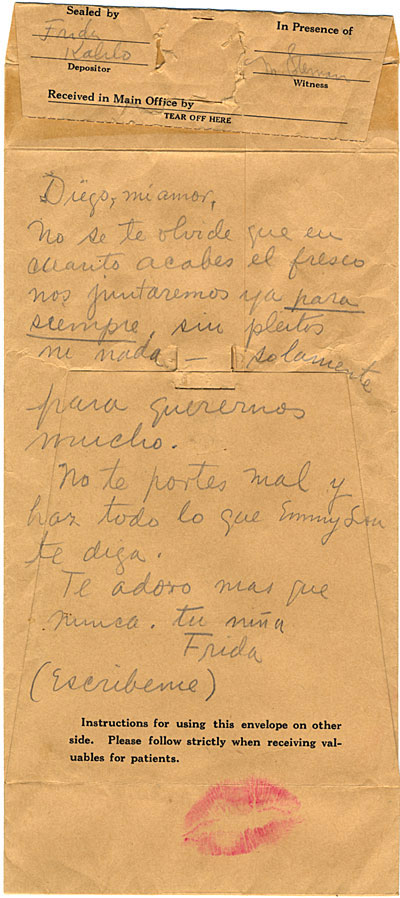 One of the best ways to liven up a boring letter is with a non-boring signature. Not that George Grosz could be accused of writing a boring letter; his illustrated letters to Erich Herrmann, in particular, are a delight. But, this letter to Lawrence Fleischman, one of the founders of the Archives of American Art, is all business. Grosz's fanciful Gs alone double the whimsy factor of the little swinging gnome at top of his letterhead.
Also no stranger to the whimsical and fanciful is Frida Kahlo. Writing a brief love letter to Diego Rivera on the envelope that held her personal effects while she was admitted to St. Lukes Hospital, she tells him, "Te adoro mas que nunca" (I adore you more than ever). Her choice of stationary is more remarkable than her penmanship, but Kahlo's valediction may be the ultimate artists' signature when she seals her note, literally, with a kiss.
Elizabeth Botten works in the Reference Services Department at the Archives of American Art.