The search for a(n archival) media icon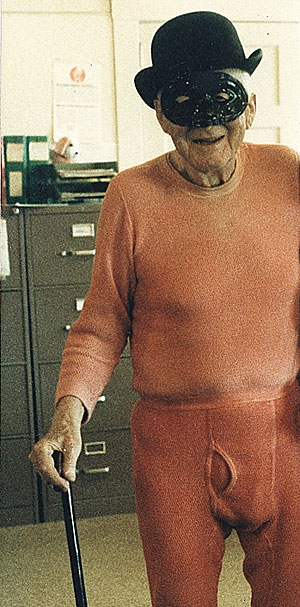 The Archives of American Art was recently awarded funding by the Council on Library and Information Resources' "Cataloging Hidden Special Collections and Archives" program for a three-year processing project entitled, "Uncovering Audiovisual Media Documenting Postmodern Art." As we kicked off the project this January, my first task as project archivist was to find a thumbnail-sized image in the collections that would represent the project as a whole—an image that conveys postmodern art and media in the archives.
It had been awhile since I had looked closely at these collections, so I had to jog my memory as to what they contain. The existing collection records weren't much help, but of course, that wasn't a coincidence. Rather, it's why we got the grant, to process and describe these collections, to un-hide the media in them, and to develop approaches to making audiovisual media in manuscript collections more findable.
So, I headed to the stacks with my list in hand: twelve collections, all rich with documentation of contemporary art movements like environmental art, time-based media art, conceptual art, kinetic art, and all full of obsolete audiovisual media.
I first consulted the Eleanor Dickinson papers. Dickinson is a San Francisco-based artist with a long career in painting, writing, educating, and advocacy. She made ample use of video and sound recordings to create shows and documentaries around issues for working artists, particularly women artists, and artists' models. I was familiar with some of the video from her project, "Artist Models of San Francisco" (1977–1981) because we had it preserved recently. I revisited some of that footage and was delighted all over again by its unique point of view, its remarkable personalities, and the way it captures the spirit of its time and place. I found some wonderful video stills and other photos of the artist, but nothing that captures our project as a whole.
On to Jan Butterfield, a California author whose work covered some of the hottest topics of her time, from performance and conceptual art to environmental art and beyond. Her major published writing centers on artists working in ephemeral sculptural media such as Robert Irwin, James Turrell, and Larry Bell, among others.
In my role as audiovisual archivist, Butterfield's papers are mostly known to me for the hundreds of taped interviews and lectures of contemporary artists (recordings which are rather glossed over in the existing collection description in our catalog, something I look forward to rectifying), but I had never looked at her photographs. To my surprise, the first box I opened contained a beautiful collection of black and white prints of the San Francisco Beat writers taken by photographers close to the Beat scene. I made a mental note to linger over these images of my literary heroes later. For now, I had to stay focused on my task. I pored over reams of slides in Butterfield's papers and found some extraordinary images. I took note of a few, but they were so specific to a single artist's vision that they didn't seem quite right.
I should have known I'd hit pay dirt with the Exhibition Records of the Contemporary Wing of the Finch College Museum of Art. During the gallery's brief but auspicious time span, 1965 to 1970, curator Elayne Varian staged seminal shows involving early video, performance, and conceptual artists.
Not long after beginning to work my way through the messy exhibition files, I came across a set of artists' files, in which I found a photo I thought could speak for all the artists who found themselves in an age of consciousness-altering technologies, and all the possibilities for expression that came along with them.
The image shows Les Levine's live, multi-channel television sculpture Iris. The photograph depicts the artist's reflection in a man-sized tower of monitors, standing behind a video camera, videotaping his sculpture as it "watches" him back. The image was taken with a fish-eye lens, creating a visual pun on the fishbowl effect of late twentieth century media culture, which the sculpture itself is eloquent in expressing.
In some ways, it isn't the most exciting or high-quality photograph. It's only a still frame from the low-resolution video whose production it depicts. But that fits as well, I think. Artists of Levine's generation, like generations before them, challenged notions of what art was, but they did so using the new technologies of their era, and they produced work that could sometimes be more mind-grabbing in concept than eye-grabbing in appearance.
Conceptually, I think the image of Levine's Iris stands in well for the intersecting concepts that our project is designed to reveal in the Archives' collections: media, art, technology, experimentation, and ephemerality.
My task was successful, after a few false starts, but for me the real take-away of my search is how excited I am to work with these collections, to get to know them, and to make them more accessible to researchers. I can't wait to get started.
Explore more:
Megan McShea is the audiovisual archivist and CLIR project archivist at the Archives of American Art.
Comments
Hahaha the pic of the grandfather is very fun
Posted by

April 12, 2012
on
Posted by

April 13, 2012
on
Nice article Megan, I checked out Jan Butterfield, she has some great work.
Posted by

April 14, 2012
on
I got a kick out of the picture of gramps in the long-johns!
Posted by

April 24, 2012
on
For some reason, that old man with the mask freaks me out. Big time... Come to think about it, he reminds me of the characters from A Clockwork Orange!