I learned about the history of art in a dark class room, straining to hear the professor's voice over the hum of slide projectors. I'll admit that given the circumstances, I occasionally nodded off. But I can't complain, because the great thing about art is that it's relatively easy on the eyes, especially during the holiday season. Art is a respite from the visual bombardment of your neighbor's attempt to outdo Clark Griswold's light display, the onslaught of wacky holiday sweaters in department stores, and even the sting of mace in your eyes from a less than festive shopper.
Strolling through a museum is always a welcome activity, but I find it even more exciting to stumble upon a handmade holiday card while conducting research at the Archives of American Art. Within hundreds of collections are imaginative holiday cards that express the artistic idioms of their creators. Many artists found inspiration from the history of art for their annual holiday cards. With these cards as my evidence, I present a history of art that you won't find in stuffy classrooms: *

Early Christian
During the Romanesque and Byzantine periods, depictions of the Virgin and Child were hardly flattering. Don Baum, a key figure of the Chicago Imagist movement, was especially drawn to these inimitable Christian icons. For his holiday collage to fellow Chicago artists, Kathleen Blackshear and Ethel Spears, he enlivened a clipping of the dour looking duo by sketching them in a cozy nest. At least Baum's composition explains why the Baby Jesus appears to be hanging onto his mother for dear life.

Northern Renaissance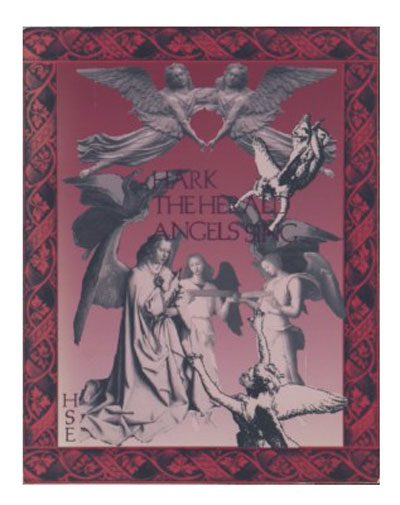 The Archangel Michael was the Leonardo DiCaprio of the Renaissance period because angels flocked to him. The only difference is that today's angels are of the Victoria's Secret variety. In a holiday card to installation artist David Ireland, Heidi Everhart digitally plucked angels from Renaissance paintings to create her own composition. At the center of the card is Jan van Eyck's inimitable portrayal of the Archangel Michael in his magnum opus, The Ghent Altarpiece .

Italian Renaissance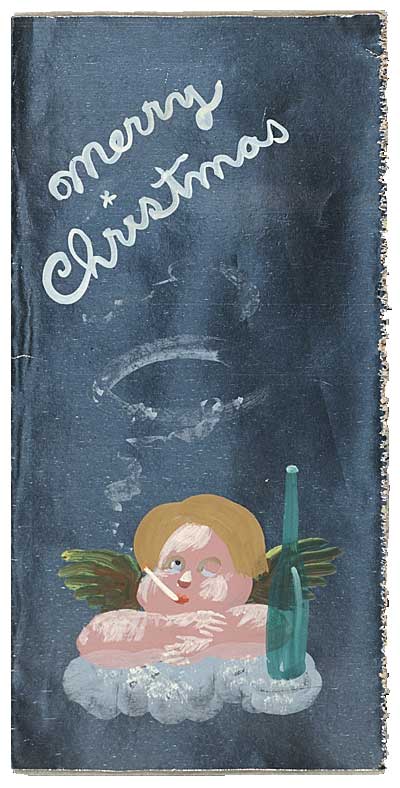 During the Renaissance period, cherub models unionized for better working conditions. As a result, painters like Raphael had to provide breaks for the winged models of his masterpiece, Sistine Madonna. While on break, the cherubs let loose by smoking cigarettes and drinking wine. Chicago artist Julia Thecla painted these off-duty cherubs on her holiday card to Kathleen Blackshear and Ethel Spears.

Impressionism
During the Impressionist period, sculptor Auguste Rodin earned acclaim for his work, The Thinker. According to the history books, this work depicts a philosopher deep in thought. But as artist Ralph Fabri reveals in his holiday etching, Rodin really based his work on a ponderous Santa Claus.
Expressionism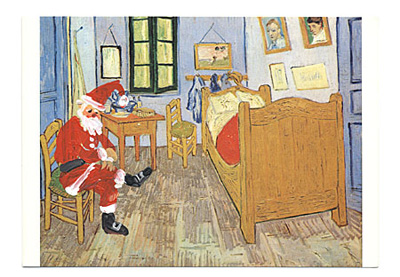 Van Gogh's vivid painting of his bedroom at Arles is one of the finest examples of Expressionism. Indeed, the room was so disconcerting to its contemporary audience that when Santa Claus entered in 1888 to deliver Van Gogh's gift—a pair of ear muffs—he temporarily lost his balance and had to sit down. Cuban American painter Arturo Rodriguez portrayed this little told story on his holiday postcard to Miami journalist Helen Kohen.
Cubism
Primarily known for his provocative Cubist paintings, Picasso also earned critical acclaim for his Blue and Rose Periods. Art historians have recently discovered paintings from Picasso's less known Prude Period in which he censored many of his prior masterpieces. For the holidays of 1960, sculptor Louise Nevelson sent poets Elise Asher and Stanley Kunitz her own interpretation of Picasso's Prude Period.
How might artists illustrate art of the twenty–first century? Time will tell. Let's just hope Damien Hirst stays away from Rudolph. Happy holidays from the Archives of American Art!
* because most of it is untrue.

Explore more:

Mary Savig is an Archives Specialist in the curatorial department. Her book, Season's Greetings: Handmade Holiday Cards by 20th Century Artists will be published by Smithsonian Books in 2012.
Comments
Posted by

December 19, 2011
on
this is a very interesting post!
Posted by

December 21, 2011
on
LOL @ Picasso's Prude Period... ;)
btw my Art History class was never stuffy. Had an awesome teacher by the name of Yates Evans.
Posted by

December 23, 2011
on
I love the Italian Renaissance. Great post and some nicely chosen examples.
Posted by

December 23, 2011
on
Nice blog, i love this article and image, happy holiday
Posted by

December 31, 2011
on
Artwork created by ancient artists was mind blowing and we cant find the similar skillful artwork now days, it is quite difficult to match with the famous artists, because they put their life on hold just for art and culture.
Posted by

January 2, 2012
on
Art is one of that thing which bring light in my soul..Thanks for these awesome pictures!
Posted by

January 4, 2012
on
Interesting to see the different cultural and generational influences in each painting. The abstract concepts are certainly thought provoking!
Posted by

January 5, 2012
on
I've always had a difficult time accepting abstract art. I don't get it, I guess. Always preferred the type of art where the painter would create an image as realistic as possible, preferrably without being actually realistic.
Posted by

January 7, 2012
on
I am great art lover and I really enjoyed your post. Thank you for making my day a little bit better!
Posted by

January 12, 2012
on
Good info. I will keep on coming back to read such high quality posts. Thanks!
Posted by

January 12, 2012
on
Such a post is what I've been looking for as you
have detailed the necessary information on the topic.
Posted by

January 17, 2012
on
I am art lover so A good painting to me has always been like a friend. It keeps me company, comforts and inspires. Thanks for sharing a good post on artwork and I hope you will share more.
Posted by

January 19, 2012
on
There is something inspiring about this blog. i just love the pictures-i would say it is more than illbieusions of art
Posted by

January 20, 2012
on
thank you for information.
Posted by

January 21, 2012
on
Good essay on art history.
Posted by

February 3, 2012
on
I have enjoyed this article. Your writer has piqued my interest and given me plenty to think about from the alternative views that were presented.
Posted by

February 13, 2012
on
A virtual repository of a substantial cross-section of the Archives' most significant collections.