Great Aunts in the Archives
Blogs across the Smithsonian will give an inside look at the Institution's archival collections and practices during a month long blogathon in celebration of October's American Archives Month. See additional posts from our other participating blogs, as well as related events and resources, on the Smithsonian's Archives Month website.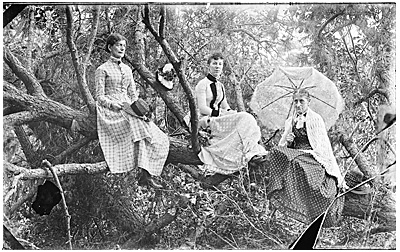 Most of our collections of artists' papers include at least basic biographical information from the artist, but there are many that also have more detailed material of interest to genealogists, including family trees in the John Henry Bradley Storrs papers, the Winslow Homer family Bible, and other family records, such as genealogies in the Jervis McEntee papers. And, sometimes you find literal family trees, or families in trees. In this case, John Peto's aunts.
Our oral history collections are another great source of information on artists' families as many begin with questions about the artist or subject's parents and upbringing. The interview with Kathleen Curry, the wife of artist John Stewart Curry, includes a wonderful description of her parents' impromptu courtship and marriage.
I'm always happy to assist researchers in our reading room, but there is a special place in my heart for those who visit to explore letters written by their ancestors, view baby pictures of their grandparents, and round out the history of their families through first-hand accounts of births, marriages, deaths, travels, and careers.
Marisa Bourgoin is the Richard Manoogian Chief of Reference Services
Comments
love the way and explanation..
Posted by

November 11, 2011
on
I love investigating my family history. Recently discovered a great forum which helped me to learn about my Scottish ancestors. People are very helpful, and ready to help you with investigation.
Posted by

December 6, 2011
on