Now that summer intern season is over, we wanted to share some experiences of former Archives of American Art interns. This is part one of a series of posts by 2009 summer intern Thomas Burns. He composed the following letter and addressed it to Archives staff at the summer's intern farewell reception.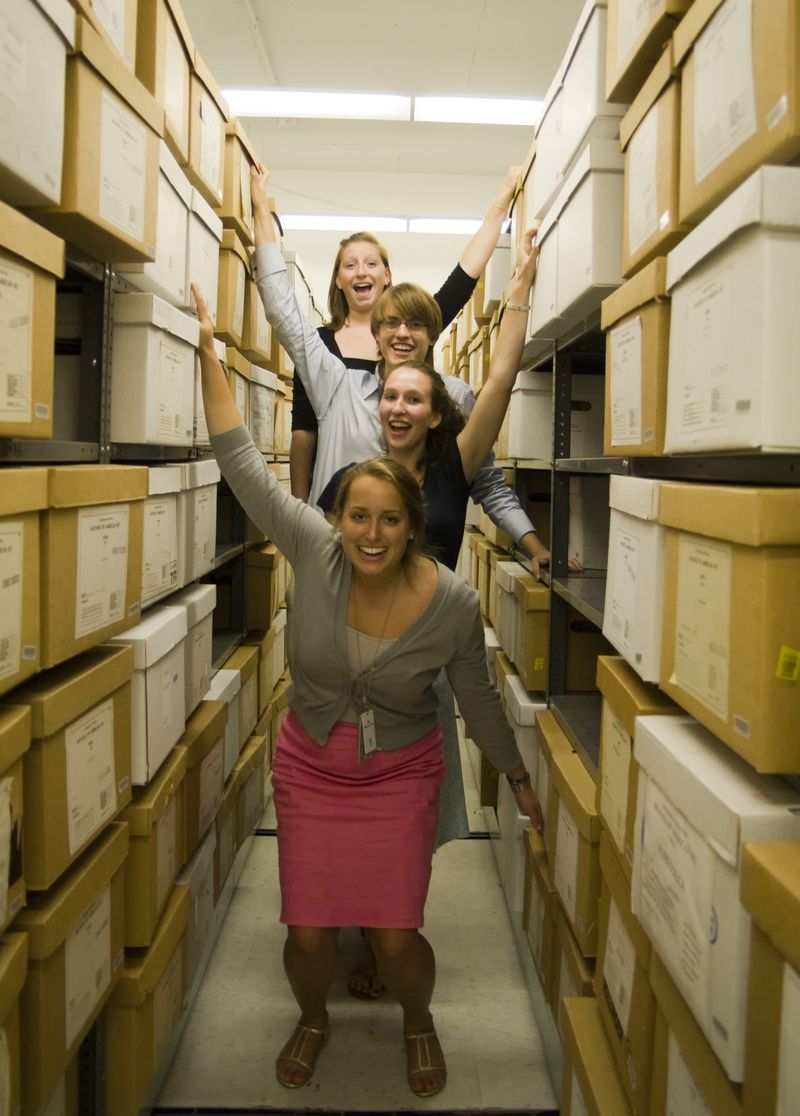 I have learned that at the Archives of American Art you don't just do one job—instead you end up doing twenty. From working with Robin, Karen, Jenifer, and Loren; and bothering Kathleen, Jean, Wendy, Margaret, Marisa, and Susan with questions, I learned so much more than I ever thought I would. Like the alphabet soup; there are DACS, NAS, DCD, EAD, MARC, SAAM, NPG, NGA, and a seemingly unending list of acronyms.
With Robin, I learned the "joy" of scanned microfilm. That Prentiss Taylor bought a Model 2200 Hoover box-type vacuum in 1965 for only $10.73. Marcel Breuer built too many box houses and Rockwell Kent had over twenty-six windows broken by sonic booms alone between 1968 and 1969. And I learned that to scan a letter is not just about pressing the scan button.
Karen exposed me to the wondrous mind of Garnett McCoy. I scoured though papers finding Salvador Dali, John Trumbull, and Andrew Carnegie among others. I have seen the good archiving of today and the thought provoking organization of the past.
Jennifer taught me that one cassette does not mean one CD but many different copies. Also, some artists seem to talk and talk...and talk: How can Federico Castellon* spend twelve hours and thirty minutes talking about himself? Jennifer, along with Wendy, told me about a pop musician named Prince.
Wendy and I enjoyed many conversations about the "ease" and "clarity" of modern copyright laws.
Kathleen taught me that for one problem there are hundreds of solutions. To not fret over the small stuff. And finally that Saturday morning is not about cartoons, but PBS and The East Enders.
With Loren I now know where every internet plug is, and that scanners are not the easiest things to install.
Margaret showed me how to use these things called microfilm, and vanquish her archenemy the paper jam.
Jean taught me that for every paper there is a folder to hold it. And she has cool nickels.
Finally Marisa showed me the rest of the Smithsonian world and made all of my Night at the Museum dreams come true.
I would like to thank everyone at the Archives for answering or trying to answer all of my questions. All of those conversations that might have lasted a little too long are the things that I have truly loved. And last but not least thank you for taking a chance and letting a little undergrad work for you. It is partially due to my experience as an intern at the Archives that I know more than ever before where I need to go and where I want to be in my life.
*Editor's Note: Not really twelve hours and thirty minutes.

Thomas Burns was an intern for the Archives of American Art in the summer of 2009. He is now entering his junior year at Yale where he is studying the History of Art, focusing on American and British Art.