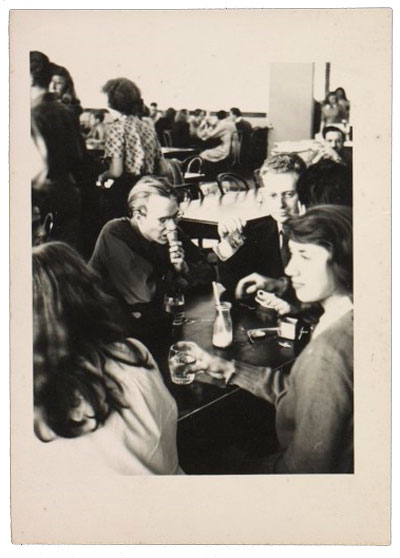 What do artists look like when they aren't posing as artists? Are they regular people just like you and me? Or, do their shoeboxes and albums full of snapshots of vacations, parties, friends and family reveal something more? And what if that proverbial "shoebox" were really the thousands of boxes of photos that make up a substantial part of the Smithsonian's Archives of American Art?
When I began working on Little Pictures Big Lives for the Archives, I was immediately struck with two ideas: that snapshots of celebrities (in this case American artists) are great fun to look at because they pretend to deliver a more intimate and "just you and me" look at people whose lives are more often than not poses created for public consumption; and that the various mini dramas suggested by an archive of images—say for example, the many snapshots of Lee Krasner and Jackson Pollock that are found in theirs and Charles Pollock's papers—provide lively stories, but complicated ones. Wow! The heroic abstract painter lounging about on the beach? Jackson smiling in the studio with his dogs? Is this the real Jackson? Or do these photos offer only another detail, no more or less "real" than any other?
These small photos of artistic lives, often recorded serendipitously on the spur of the moment, create evocative histories somewhere between fact and fiction and dependent both on them, the subjects, and us, the viewers. These pictures demand our interaction. We search them for clues, trying to remember or confirm who and what and why.
Since the first Kodak snapshot cameras were introduced in 1888, we've all been enabled and encouraged to record our lives, not quite as they are lived, but the way we want to see life represented in pictures. These small snapshot images are marveled over, talked about, laughed at, cried over. Then glued into photo albums, fitted into frames, and tucked away in wallets, shoeboxes, and most often forgotten.
The words "found" and "anonymous" accompany most collections of snapshots. For the majority of snapshots found in flea markets and in family albums assembled long ago, names and places are missing and the original occasion of their making is lost.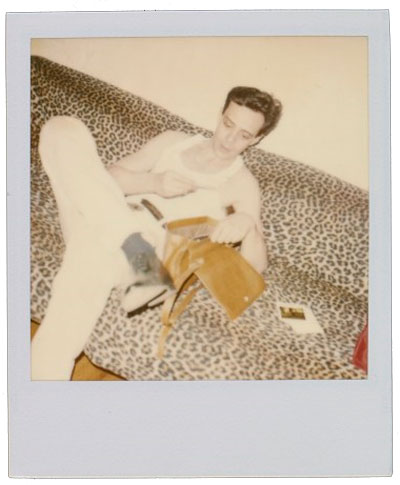 And that is what makes the snapshots found in the collections of the Archives of American Art special. In the archives, photos are never far from the rest of the ephemera of artistic life: letters, diaries, calendars, and postcards. And even more potent is the measure we take of these little pictures as companions to other, more official portraits. Rather than the usual snapshot narrative that requires us to imagine who is in the picture, these snapshots give us additional information about artistic biographies in a style that is both captivating and instructive.
How wonderful to look at Philip Pearlstein's playful snapshots of a young Andy Warhol, and know how that crazy college kid turned out and more wonderfully know how photographic images, everyday snapshots among them, became the center of Warhol's art? And closer to now than then, the Polaroid snapshots in gallery dealer Colin de Land's archives, create a moment by moment report of time and place that is almost cinematic. It reminds us that today when our lives are so completely dictated by visual communications of all kinds, photography—weird, amusing, embarrassing, emotional, loving, and provocative—happens all the time. Paper or digital, it still proves our need to be seen, recognized, and remembered.
Merry Foresta is guest curator of the exhibition Little Pictures Big Lives: Snapshots from the Archives of American Art. Join her for a free gallery talk about the exhibition on Friday, July 15 at 3:00 p.m. in the Lawrence A. Fleischman Gallery, Washington, D.C.