An archivist's work is never done!
The ten year journey to digitize the records of Jacques Seligmann & Co.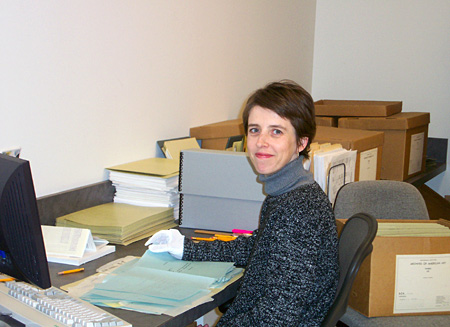 In 2001, a project team of archivists put the final touches on a published edition of the Finding Aid to the Records of the Jacques Seligmann & Co., 1904-1978. The project archivists were many: Barbara Aikens, Stephanie Ashley, Pat Craig, and Rosa Fernandez. Even more archivists and volunteers worked over a challenging three year period to preserve, arrange, and describe the 203 linear feet collection; some left along the way…some went running after only a week!
Funding for the project, however, remained stable thanks to the support of The Getty Foundation. At that time, the Seligmann gallery archive was the largest collection ever fully processed by the Archives.
Just two years later, the Archives made the finding aid one of the first available on its website. Since then, the collection has remained one of our most heavily used resources, particularly for provenance research.
The company's clients included most of the major art collectors of the era, and the art that passed through its galleries often ended up in prominent American and European museums through the benefactors who acquired their collections through the gallery.
Now, a full ten years later, this collection represents yet another "first" for the Archives of American Art.
With the visionary support of the Samuel H. Kress Foundation and the Terra Foundation for American Art, we have digitized the collection in its entirety, and it is now fully accessible: all 203 linear feet and 330,749 digital files, making it the largest collection ever digitized by the Archives of American Art.
As project director for the initial processing and finding aid and the later digitization of the collection, nothing could be more rewarding than coming full circle and seeing this incredibly rich resource fully accessible to our researchers online.
So, stay in your PJs, grab a cup of coffee, and view the Records of Jacques Seligmann & Co in our virtual reading room!

Barbara Aikens is the Chief of Collections Processing at the Archives of American Art.
Comments
Posted by

April 27, 2011
on
Posted by

May 16, 2011
on
And what a difficult job. People must love it because it is not easy....
Posted by

July 21, 2011
on
A virtual repository of a substantial cross-section of the Archives' most significant collections.