This archivist has a bad case of Royal Wedding Fever. I wasn't around for the Prince Charles-Lady Di extravaganza, so I refuse to miss a single minute of Kate Middleton and Prince William's nuptials! I have plans to wake up in the middle of the night to watch the wedding on television complete with a champagne toast in my pajamas.
For those of you who can't get enough of the glitz and glamour, we have plenty of royal records at the Archives of American Art to feed the need. The papers of painter, writer, and minor noble John D. Graham, born Ivan Dombrowsky, are fully digitized and online. They come complete with a certificate of nobility from the Russian Crown.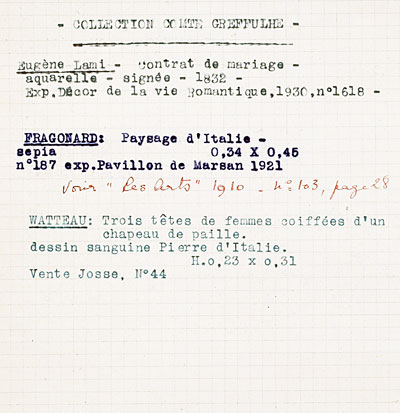 Along the same lines, within Edith Halpert's 1962–63 oral history interview with Harlan Phillips, the art dealer describes the time she saw a procession of the Tsar and Tsarina of Russia. Unfortunately, they did not adhere to her fairytale image of royalty (no crowns or tiaras!).
Perhaps my favorite collection for royal–stalking is the Jacques Seligmann and Co. records. The collector's files and correspondence are full of fantastically titled nobles. It seems so fitting that the Comtesse Greffulhe would buy a Fragonard and a Watteau.
Wouldn't you love to gaze at the art collections of the Princesse de Poix, Comte Raymond de Castellane, or Princess Thurn und Taxis-Metternich? Follow the links to take a look at some of their correspondence and purchases.
If an American-style of royalty is more up your alley, why not gaze at the lovely Jackie Kennedy holding court while touring the under-construction Whitney Museum of American Art. Or maybe you prefer fashion icon Gloria Vanderbilt, a true American royal.
Of course, even royals have bad days. Just ask the pouty Duchess of Cambridge!
Who is your favorite royal? Let us know!
Jayna Hanson is a processing archivist at the Archives of American Art and an aspiring royal.