The Hiram Powers papers have become the 100th fully digitized collection available to researchers online as part of the Terra Foundation for American Art Digitization Project.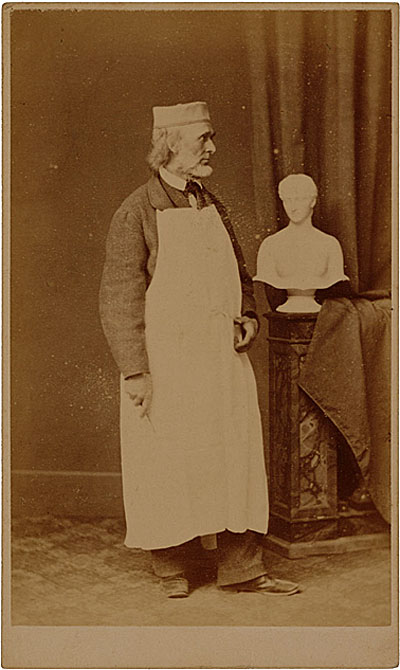 American sculptor Hiram Powers (1805–1873) was born in Woodstock, Vermont, and lived and worked briefly in Washington, D.C. and Boston, before settling permanently with his family in Florence, Italy.
Powers is known for his portrait busts of prominent American politicians, including Andrew Jackson, and his idealized neo-classical sculptures, most notably the Greek Slave. He and his family were active members of the intellectual community of American and English émigrés, and his studio was also a frequent stop on tourists' visits to Florence.
This historically rich collection contains ten linear feet of correspondence between Powers and family, friends, and business associates from 1819 to 1883.
Included are fragile but invaluable copies of Powers' outgoing letters, which were created by a process of placing moistened paper in a press. Besides details of his studio work and business dealings, his letters often discuss his views on aesthetics, American politics, slavery, the Civil War, and Spiritualism.
Other treasures in this collection include Powers' studio notebook documenting his work from 1841 to 1845; poetry written by Elizabeth Barrett Browning, John Quincy Adams, and others in praise of his sculpture; and 267 cartes de visite and cabinet card portraits of artists, performers, politicians, writers, scientists, and other public figures, many of whom were friends with the Powers family. Some of these photographs were taken by his son, Longworth Powers, who had a private photography studio in Florence.

Erin Corley is a processing archivist at the Archives of American Art.