Musicologist Allan Atlas writes about connection between artist Ira Jean Belmont and composer Ralph Vaughan Williams.
By way of introduction: I am not an art historian. Rather, I'm a musicologist, and I teach music history at The Graduate Center of The City University of New York. Having focused much of my research during the past few years on the English composer Ralph Vaughan Williams (1872–1958), I became particularly interested in the reception of his famous Fantasia on a Theme by Thomas Tallis—perhaps his "signature" composition—in the United States in general and New York in particular.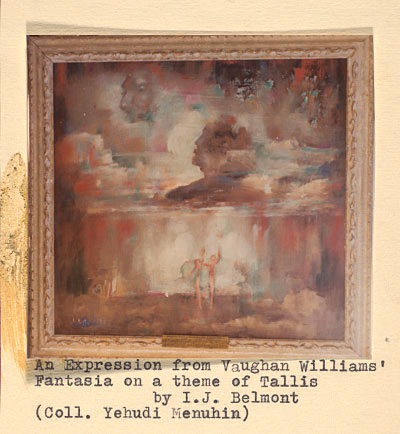 One of the most fascinating aspects of that reception has to do with artist Ira Jean Belmont (1885–1964), who "translated" the Tallis Fantasy onto canvas in one of his many "color-music" paintings, as he called them. To be honest, I had never even heard of Belmont before, so I was delighted to learn that the Archives had a rich collection of materials pertaining both to his life and to his works. In fact, as far as I can tell, it is the single largest collection of Belmont materials there is.
What a joy to work at the Archives! I came to feel so much at home there that I am seriously considering expanding my work on Belmont from the narrow perspective of his two Vaughan Williams paintings (he also based a painting on the Fantasia on Greensleeves) to a more comprehensive study on his color-music paintings as a whole, thus providing me with an excuse to keep visiting.
But that is getting a bit ahead of myself, since a few words about Belmont's translation of the Tallis Fantasy are probably in order. First, Belmont was a synaesthetist; thus, if we take him at his word, he could not listen to music without involuntarily seeing colors and even images. What was it about Vaughan Williams's music that caught the artist's attention to begin with? I cannot say! Belmont's musical tastes were wide-ranging, and his ninety-some-odd "color-music expressions" (another one of his names for his works) translated music by composers from Bach through Beethoven and Wager to Sibelius and Ravel. In fact, Wagner was his favorite, and it was Belmont's self-assigned mission "to enshrine the dream of the great Richard Wagner, the union of the arts" (as he put it in his book The Modern Dilemma in Art, 1944).
Belmont's painting poses further puzzles:
Why did Belmont draw his inspiration from two melodies that appear only in the interior of the work—Belmont generally inscribed the specific melodies upon which he drew on a brass plaque attached to the bottom of the painting's frame—instead of the melody that Vaughan Williams lifted—and made famous in the process—from a psalm-setting by the sixteenth century Tudor composer Thomas Tallis (c. 1505–1585)?
Why are the two most predominant colors in the painting white and a red-orange, when the first of these doesn't exist in Belmont's palette of color-pitch equivalents (he spells these out in The Modern Dilemma in Art) and the second is the equivalent of C sharp/D flat, which doesn't appear in either of the two melodies that Belmont was purportedly translating?
What are those grim and glaring faces doing in the upper half of the painting?
We might argue that there are some dark moments in Vaughan Williams's Fantasia, but I am not quite sure that there's anything quite so menacing as the upper half of Belmont's painting. Unfortunately (at least for those who like ready-made answers to things), Belmont's reactions to the music he translated were both personal and private. And except for a few instances in which the Belmont papers contain a tantalizingly vague explanation of a painting by Mrs. Elsie Kaye Belmont (as in the artist's interpretation of Elgar's Enigma Variations), or, as in the "expression" of Sibelius's Swan of Tuonela, where—you guessed it—there is a nice fat swan front and center, we are usually at a loss to say just what on the painting translates just what in the music. And perhaps we should generally avoid even looking for one-to-one correlations.
As I noted above, I will likely head back to the Archives and dig into the Belmont papers with a rather wider net. And I will, therefore, have more opportunities to say thank you to Marisa, Elizabeth, and Wendy for their generous help and hospitality!
Allan Atlas is on the faculty at The Graduate Center of The City University of New York; his recent research focuses on both music in Victorian England and that of the twentieth century English composer Ralph Vaughan Williams.