Behind-the-Scenes volunteer Gaston Lacomb shares his thoughts on transcribing and translating oral history interviews at the Archives of American Art.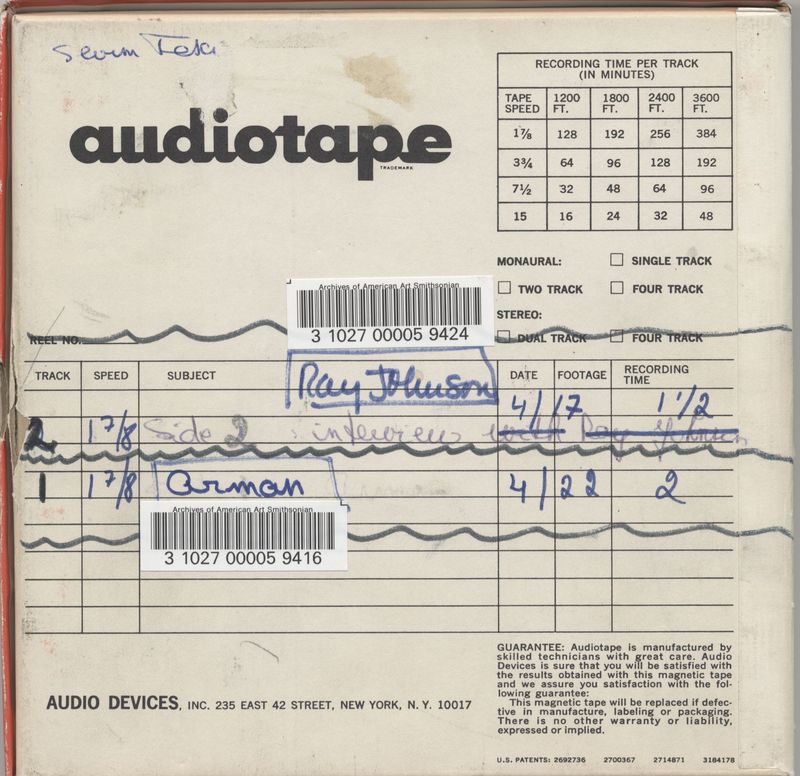 For the last year, I have been volunteering for the Archives of American Art at the Smithsonian. Since my mother tongue is French, I was entrusted to transcribe and translate interviews conducted with French artists in New York in the 1960s.
My first task was to identify who the interviewed artists were in order to correct an old labeling error. This lead me to do a great deal of research into the people, the places and the vocabulary of the period. In the course of this research I deciphered which recordings belongs to the artists Bernar Venet or to Arman, and enjoyed learning about their art and their times through their own words. The interview with Arman, in particular, lead me on an hour-long journey through wartime and post-WWII southern France, and through the defining artistic movements of the second half of the 1950s and 60s.
Fast forward to just last week, when I visited the Yves Klein: With the Void, Full Powers exhibit at the Hirshhorn. I knew from listening to Arman that Yves Klein was his childhood friend, his travel buddy and his judo partner. As I walked through the Yves Klein exhibit, I was delighted to see in pictures the faces of the people Arman had talked about. I saw pieces of art, and read texts that referred to experience he had described in his interview. And at the very end of the exhibit stood the sculpture of a man, tinted in Klein's characteristic deep blue—it was Arman, life-size, naked, greeting all the visitors with a knowing grin. As I looked at his statue, I felt very thankful to him. It took me a few months to transcribe and translate his interview, but he taught me so much in the process. I was able to experience the Yves Klein exhibit with a new comprehension of his times and his art.
Explore more:
Guest blogger Gaston Lacombe is a Smithsonian Behind-the-Scenes volunteer for the Archives of American Art and a photographer based in Washington, DC
Comments
Posted by

November 20, 2010
on
Bonjour. It took a few months to transcribe and translate his interview? Wow, it must be hard work but I suppose all is well worth it.
Posted by

March 24, 2011
on