The Beginnings of the Whitney Biennial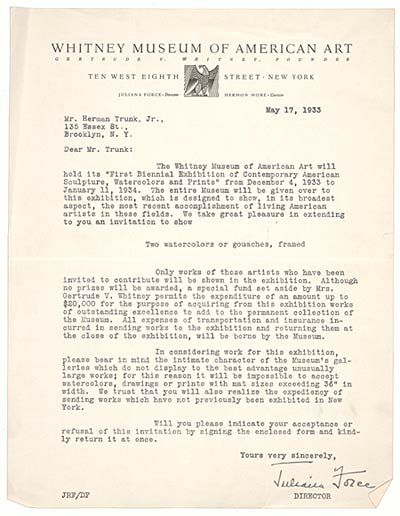 In the spring of 1933, Juliana Force, the first director of the Whitney Museum of American Art, began planning the museum's first ever "Biennial Exhibition of Contemporary American Sculpture, Watercolors and Prints." This followed one year after the "First Biennial Exhibition of Contemporary American Paintings." The two different biennials alternated annually before merging into what is now simply called the Whitney Biennial.
In this letter to modernist painter Herman Trunk, Force made clear the mission of the Biennial: "the entire Museum will be given over to this exhibition, which is designed to show, in its broadest aspect, the most recent accomplishment of living American artists. . ." For the past eighty years, curators of the Whitney Biennials have fulfilled this mission.
This letter also reveals that some things about the Biennial have radically changed. Force advised artists to "please bear in mind the intimate character of the Museum's galleries which do not display to the best advantage unusually large works." She set a size limit of 36 inches. I have yet to see the current Biennial, but I wonder if any of the artworks are actually smaller than 36 inches.
While reading this letter and paging through the first Biennial's catalog of artists, I couldn't help but wonder how the past eighty years have contributed to the history of American art and what the next eighty years will bring.
Among the luminaries who showed at the 1933 Biennial were Milton Avery, Charles Burchfield, Yasuo Kuniyoshi, and the very founder of the museum, Gertrude Vanderbilt Whitney. Which artists in the 2010 Whitney Biennial will effectively become absorbed into the historical canon as future Biennials carry the torch of the contemporary?
Mary Savig is a curatorial assistant at the Archives of American Art.